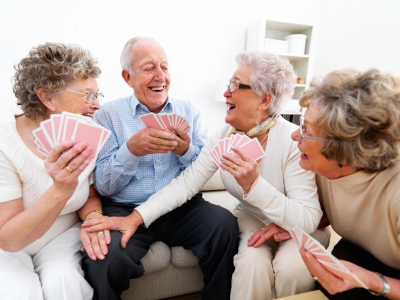 Angel's Care Family Home provides significant differences from traditional Nursing Homes, Memory Care, and Assisted Living facilities. The intimate residential setting of an Angels Care home simply cannot be matched in dormitory-style facilities.
The intimate residential setting of Angel's Care Family Homes follows the Green House Project model that is revolutionizing senior care. There are so many benefits to this approach.
Smaller is Safer
It is clear the smaller, more controlled environment of Angel's Care and other assisted living homes that follow the Green House Project model around the country, which traditionally serve significantly fewer residents, with smaller staffs are better suited to minimize infection risks for both residents and facility staff. The numbers prove this. A May 2020 study, 4 months into the COVID-19 pandemic, shows only 4 people tested positive for COVID-19 infections and no deaths among the 266 Green House Project homes surveyed representing over 2,600 residents in this study.
Contrast this to larger facilities, which have unique challenges related to infection control measures due to their sheer size. Large numbers of staff and outside vendors enter these facilities on a daily basis and pose a continual problem for larger facilities. Research has shown that smaller providers like Angels Care Family Home are better equipped to effectively manage infection control measures and are able to keep residents safe and secure in these uncertain times.
We offer more details on Smaller is Safer here.
Senior Housing News featured a story to support the claim that smaller is better. Read 'Smaller is Better': COVID-19 Primes Senior Living for Rise of Small-House Models.
Low Staff to Resident Ratio
The Staff to Resident Ratio at Angel's Care is unparalleled when compared to traditional dormitory-style assisted living and memory care facilities. A ratio of 1 staff member for every 3.5 to 5 Residents is truly the benchmark for the industry. We truly offer personalized care 24 hours per day.
Family-Style Residential Homes
The Angels Care Family Home Loveland campus has three homes which are limited to 6-8 Residents per home, each of which provides continuous personalized care for our Residents.
The Angels Care Family Home Newtown-Anderson Township campus has two 10 bedroom ranch style homes, each with a capacity that is limited to 12 Residents per home and which provide an unparalleled staffing ratio in the area.
At Angels Care Family Home, your loved receive the care and attention they need and deserve, in a family-style setting that is designed for their optimum safety, comfort, safety, and well-being.